Green Screen Technology, also known as the Chroma Key Technology, has been gaining a lot of popularity in the last couple of years. Cinematographers and Photographers tend to use it more often now because of the many benefits that it offers. Creating complex imagery which otherwise would have been very difficult, if not impossible, has now become so easy with the help of the green screen.
Photographers are always on the lookout for good green screen rentals, and here's why.
Atomic's Green Screen Virtual Studio & Match Moving Stage built by the experts that host the world's preeminent seminar for green screen production- Hollywood Camera Work's "Green Screen Intensive". We've built the perfect shooting environment so your projects won't suffer in post, saving you money.
Perfect Lighting-Evenly Lit
The flattest waveform in town. Walk onto our green screen stage and with one flip of a switch, see our perfectly Pre-lit green screen cyc. None of the traditional problems with dark bands above and below the sweep or hot spots in the corner cove. You need a perfect, evenly lit green screen when you want to shoot transparent and translucent objects, veils and fine blonde hair without the need to sacrifice your composite quality by choking your key matte.
Actual waveform image from our green screen studio
Use the Green Screener lighting app we co-developed with Hollywood Camera Work and come check it out for yourself.
Perfect Color
Our green screen utilizes the highest end, specially formulated Digi-Comp green system from Rosco. Our green is REALLY green. Not yellow green, not blueish/reddish green, but the perfect green you need to maximize the separation of your color channels.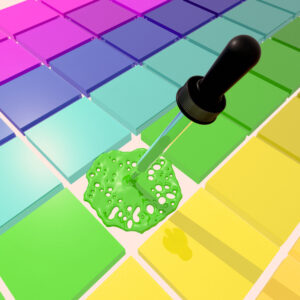 Perfect Spill Suppression
With our dual-split black curtain track system and heavy duty black spill suppression sound blankets, you don't have to ruin your color balance by trying to add spill suppression in post.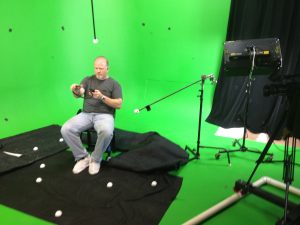 Perfect Markers
You no longer have to work in fear of your tape markers pulling off the green paint. We invented a revolutionary new magnetic marker system that makes placement and re-positioning of our tracking markers instantaneous and effortless. Our markers have been specifically re-designed to optimize their track-ability in the top tracking and match moving software applications. Now you don't have to worry about bringing your own markers or painting more tape with a full crew standing by. And the best thing is- they're included free with the stage!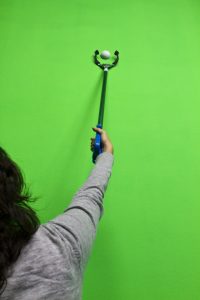 Perfect Sound
Our acoustic reverb cancellation system makes your sync-sound shoots sound as good as your composites will look. Our curtain track, sound baffles and and heavy duty sound absorbing spill suppression blankets all combine to kill the echo and eliminate the "cavernous" feel. Because our cove was engineered with sound in mind, our sweep and corner radii are designed NOT to give you the parabolic audio reflections you're used to encountering on traditional hard-cyc stages.
Perfect Acquisition 4:4:4
Our 4.5K sensor, 15-stop, 4:4:4 camera was born to shoot Green Screen. Not 4:2:2, not 4:2:0, not 4:1:1- but the proper full sampling, 4:4:4 10 bit color space you need to get the quality of key you deserve. Even if you use your own camera, you can still record the highest resolution color space it outputs uncompressed to our max-color acquisition station.
Perfect Workflow
Why go through the effort of marker tracking yourself? Let our experts take the tedium out of match move tracking and provide you with the finished data in the application format of your choice.
Why should you go for a green screen?
If you are based in Chicago, Il and are planning to hire for a film shoot for an upcoming event or project, you'll want to create some memorable shots. Make sure to try out a green screen rental in Chicago. You may find the following advantages in a green screen rental:
The biggest advantage of green screen technology is that it gives you and your cinema production company complete control over the shooting environment. With a green screen rental, you get a studio setting that is completely devoid of all distractions and inconsistencies in the backdrop, which you may end up facing in a natural setting when shooting in Chicago, Il.
The green screen technology also helps avoid any shadows and inconsistencies in light due to the movement of sun and clouds.
By going for a green screen rental, you also will reduce your post production time substantially. It is very easy to cut and paste images of your choice of a backdrop after you have shot on a green screen.
It is easier to maintain the same camera angle, color and light when you are working with a green screen.
It can take days when trying to get the perfect shot in an outdoor setting as it will all depend on finding the right location with the perfect lighting and ambiance. This would mean travel cost, equipment hire cost, support staff cost, etc. This can be easily saved by using a green screen rental as you can then get the perfect shot anytime and every time.
The footage and pictures shot on a green screen can be used in many different ways. So images and videos once captured can have multiple uses.
Green screen technology is used in today's fast paced life of film production and cinematography. With reduced production and post-production time, you can now have faster turnarounds on every film project.
Get Advice from the Experts at Atomic Imaging
If you want to see great quality film and videos for your next project in Chicago, Il then green screen technology is a must try for you. Talk to a cinematography expert at Atomic Imaging today about your project's vision, goals, and specifications. We can help you get started today!
Give us a call at: (312) 649-1800