Studio Rates & Dimensions
Dimensions:
Total Area: 1900 sq.ft.
Ceiling Height to Beam: 16'6″
Features:
Hard Cyc
Spill Supression Curtains
1200 Amp 3 Phase Power (200) per leg-2 panels)
Grid with Dimmable Circuits
Air Conditioned
Security System
Film Loading Room
Scaffolding / Ladders
Ground Level 12′ x 9′ Overhead Door to Stage
Rates
10 hour day (8:00 AM to 6:00 PM)
Prep, Pre-Light or Strike Day $500.00
Shoot Day $700.00
1/2 Day Rate (5 hours or less) $500.00
Overtime $75.00/hr. ($100/hr. before 8:00 AM)
Weekend Day $200.00 in addition to day rate
Weekend Overtime $100.00/hr.
Studio Light Rental & Power Package $550.00/day
Power Only Charge (pre-light & shoot days) $200.00/day
*No power charge with studio light rental
Disposal Service $25.00/cu.yd.
Green Screen Hard Cyclorama (25′ x 22′ x 14′) $200
20′ x 30′ Green Screen or Blue Screen Cloth $200.00
• Set Pieces, Furniture and Props Available
• Crew, Camera and Lighting Package Available
• Studio is a "Non-Smoking Facility"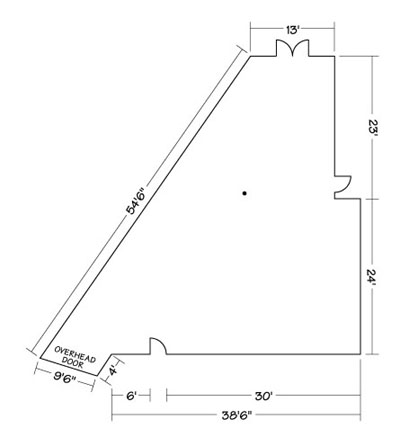 *Prices subject to change without notice.