Technical Support & Training
We believe one of the most important parts of a sophisticated system integration is support. Atomic's technical staff utilizes its real world experience to help you troubleshoot your problem quickly and effectively.
We also believe in the adage that an educated customer is the best consumer. Thus Atomic Imaging offers training and support for all of our supported software and hardware integrated media products. Training is available at Atomic Imaging, or at the client's site, on a one-on-one or group basis.
For assistance with problems, please contact one of our technical reps at support@atomicimaging.com. Please be sure to include product version number and system configuration summary with a description of your problem.
Atomic Imaging also periodically conducts an ongoing series of advanced seminars and workshops.
Hollywood Camera Work Seminars

Black Magic Cinema Camera Lens Aperture Chart (click image to preview)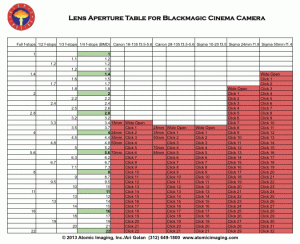 Download PDF Black Magic Cinema Camera Lens Aperture Chart