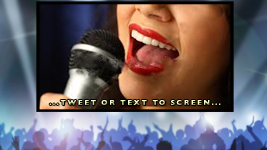 Tweet-Mag© is a Hardware & Software based system that allows attendees at any live event to TXT or Tweet messages to
I-Mag screens, monitors and/or projection systems live in real-time. Tweet-Mag© is perfect for Concerts, Sporting Events, Corporate Meetings, Medical Symposiums, Awards Ceremonies, Social Gatherings and any other event containing viewers with something to say.
Tweet-Mag© displays messages in either full screen mode or keyed (super imposed) over your video feed similar to a Character Generator. It works in all formats of HD-SDI and Standard Def, NTSC and Pal. The formatting of fonts, colors, static/scrolling/fading or flipping text are all easily customizable, as is the addition of logos, backgrounds and other custom branding.
Tweet-Mag© is the only Broadcast quality solution. Unlike other low-res products that merely output a computer's browser blown up to a TV screen, Tweet-Mag© rasterizes (re-renders) the text data stream as a true television video signal perfectly formatted to the exact resolution of your system.
An additional iPhone/iPad/smartphone Web browser based control is available to client/producers to enable triggering graphic events remotely from anywhere in the venue or world* (with Internet access). Among other possibilities, these events can include fading logo bugs in and out or shuttering (blacking out and resuming) the text stream.
Tweet-Mag© is available for either rental or purchase exclusively from Atomic Imaging. Atomic also offers Tweet-Mag© as a turn-key package/service including delivery, set-up and on-site technicians to operate the system for the duration of your show.
For more information about Tweet-Mag© call Candice at (312) 649-1800 x5703.
* Off-site remote control requires a static public IP address be provided at the event/venue location.