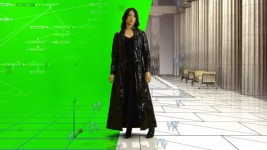 Atomic Imaging and Hollywood Camerawork launch their "Green Screen Intensive for Directors & DPs" seminar series in Los Angeles, New York, Chicago, London and Amsterdam.
The seminar provides Directors and DPs the competence to work on a high-level green screen shoot.
READY TO LEARN A LOT?
If you want to use green screen in your productions, it's critical that you understand the entire process.
The seminar takes you through full virtual set production with camera moves, set extensions and lots of green screen solutions to live-action problems. We're doing full shots in the seminar, working with every aspect, from the choices we're making on the set (camera moves, markers, lighting, exposure etc.), to post-production (tracking, matchmoving, keying, compositing etc.).
After the seminar, you will feel secure in making big decisions on a green screen, and you'll be able to confidently steer your productions towards techniques that give spectacular results without busting your budget, as well as avoid the catastrophic pitfalls that happen regularly on many productions. You will also get all the footage from the seminar.
FOR TECHS AND NON-TECHS
The seminar is equally designed for techs and non-techs because the seminar centers around the shooting process, which is the area most people struggle with. When you understand how the computer sees the shot, it becomes abundantly clear exactly what we need to do on the set.
Tech-minded people will be able to get completely hands-on, so if you're a matchmover, a compositor or an animator, bring your laptop (or even your camera), and there will be plenty of opportunities to get your hands dirty.
Non-techs will have a more conceptual experience. In the beginning, there are a lot of technical things to embrace, but you'll quickly find that you're fully capable of understanding this, and that you're able to make real decisions about green screen. There are real "aha"-moments to be had when you see shots fall apart because of shooting problems, and it will become clear exactly why we do the things we do.
Some of the things we're exploring at the seminar include:
* Full virtual set with matchmoving.
* Close-shots on a virtual set.
* Giant camera moves.
* The critical difference between tracking and matchmoving.
* Framing for a set you can't see.
* Interaction with the virtual set that actually works.
* Set extensions, matchmoving window replacements etc.
* Getting perfect green screen exposure easily and cheaply.
* And much, much more.
HOW TO REGISTER
The seminar is $895. You'll get 2 1/2 days of industry-leading training on a high-end green screen stage, and you'll be ready to shoot high-level green screen productions.